Experience. Mad skills. Fun.
My name is Jeanne Gomoll. I honed my skills as a graphic artist at the Wisconsin Department of Natural Resources, where I designed books, brochures, posters, cartoons, maps, and charts for scientists, park rangers and bureaucrats. And then I went freelance: Union Street Design was born. My clients include many Wisconsin state agencies, but also small businesses and start-ups, scientists, authors, politicians and charities. I love the variety!

How I got here:
​
In 2003, the DNR laid off its three graphic designers, including me, and offered us a chance to transfer to a different position within the agency. I declined the option to become an "administrative assistant." After 23 years working as a senior graphic designer for the state of Wisconsin, I was ready to go off on my own. Meanwhile: having lost its designers but still managing a robust publications program, the DNR was forced to hire freelancers (like me) to design publications that required high-end skills. Bottom line: I left the DNR with about 350 clients who liked working with me and who knew that I understood their needs and agency requirements. Not a bad way to start a new business. I named my company Union Street Design, after the street I live on. My office looks back on a lovely back yard full of lilac trees. I no longer attend weekly office meetings and I've traded in a bike for a slipper commute.

I diversified my client list, mostly via word-of-mouth and was delighted to discover (1) I was able to support myself, (2) upgrading computers and software takes considerably less paperwork when one is no longer working for a giant bureaucracy, (3) I was disciplined enough to work at home, and (4) tracking business info in Quickbooks was actually kind of fun. But the thing I enjoy the most is the work. I love learning new ways to use graphic software, solving layout puzzles, producing different effects, creating beautiful art.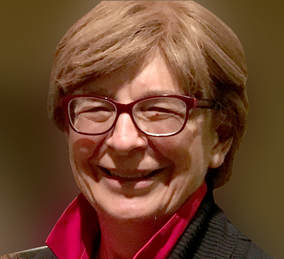 Jeanne Gomoll